About Us
---
"Strength is a defining quality of Living Oak"
– Kevin Adams
Living Oak's strength comes from a team of professionals dedicated to excellence while achieving success by operating within the company's values. Highlighted are our administrative team, and field leaders who, along with the support of our seasoned crew members, strive to deliver comprehensive, quality services for your landscape. By design, Living Oaks operates with an intimate crew focused on relationships and the execution of services to the highest of standards.
Individuals: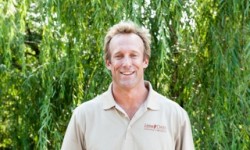 Reynolds Lockhart
Owner/General Manager
Email Reynolds 
Landscape has been a passion of Reynolds since he was just a kid with the task of pushing a lawn mower once a week on his own family's property and the surrounding neighborhood properties. From there his experience and perspective of landscape businesses developed while working for companies ranging from a small grass cutting service to a 1200-unit town home development in a gated golf community; and eventually, to a prominent, perennial award-winning Philadelphia Flower Show landscape/construction company. Influenced by the successful landscape teams for whom he worked and the professional landscapes of the Philadelphia suburbs, Reynolds invested his passion for creative and detailed, quality landscapes into Living Oaks which he began solely in 2002. His commitment to excellence and developing well thought out landscapes quickly established a reputation in the Outer Banks as a preferred vendor in the industry. Living Oaks has grown its service over the past 20 years with a steady, strong commitment to timeless business principles which have developed great small and large companies. Quality products, committed services and creative concepts continue to ensure the success of his company and the team committed to delivering the best landscaping in the Outer Banks. Ensuring that living Oaks' properties and customers receive the best landscaping continues to be his passion today as well.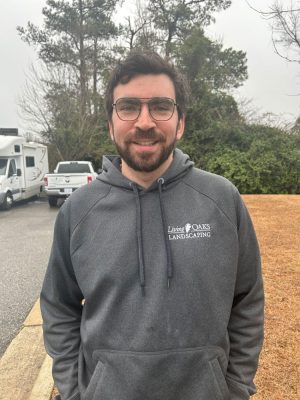 William Keep
William is our Turf Manager here at Living Oaks Landscaping. He comes with a qualified experience in coastal turf management. His experience in growing turf in transitional zones has fostered a strong knowledge of warm and cool season grasses. William is a certified commercial applicator and member of the North Carolina Turfgrass Council. We had joined us from a long tenure with a very accomplished turf service from the Virginia Beach area. William's experience and knowledge will help us deliver even greater standards of turf care to our valued customers.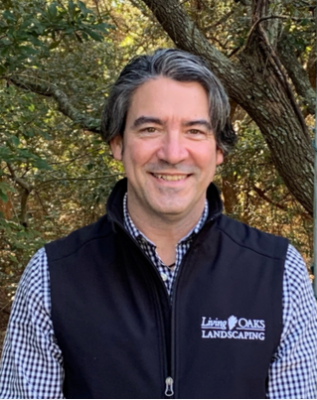 Bret Jefferson
Bret is our new Project Designer & Coordinator joins our team while bringing 20 years of project managing experience in the landscape construction industry. With a Landscape Architecture degree from the University of Georgia, Bret has experience with a great range of project types including residential, commercial, municipal, and hospitality. He is a Registered Landscape Architect in the State of North Carolina, an ISA Certified Arborist, and a Certified Erosion and Sediment Control Plan Designer. His extensive experience offers Living Oaks new conceptual ideas with computerized AutoCAD drafts plans for more detailed project plans in addition to the ability to deliver timely proposal requests.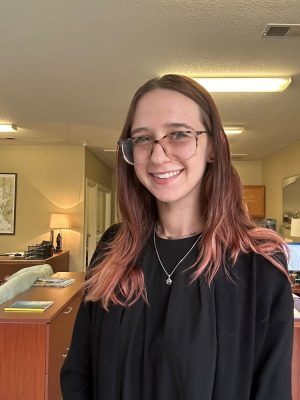 Dakota Flood
Dakota is our Administrative Assistant, helping our office with invoicing, customer correspondence in addition to office reports and projects. She is here to expand our social media presence, and help Living Oaks Landscaping grow their customer relationships! Dakota works closely with Reynolds and Sarah, as a liaison between customers and the office. Whether its answering emails and calls or responding to our most recent social media post, Dakota is always helping answer questions and share knowledge about Living Oaks. Her puppy, "Maya" is one of FOUR office pups, that are always making us all laugh and smile through the workday.
© Copyright Living Oaks Landscaping <br /><a href="http://www.boldprintdesign.com" target="_blank">Outer Banks Website Design</a> by <a href="http://www.boldprintdesign.com" target="_blank">Bold Print Design Studio</a> | Photography by Daniel Pullen