About Us
---
"Strength is a defining quality of Living Oak"
– Kevin Adams
Living Oak's strength comes from a team of professionals dedicated to excellence while achieving success by operating within the company's values. Highlighted are our administrative team, and field leaders who, along with the support of our seasoned crew members, strive to deliver comprehensive, quality services for your landscape. By design, Living Oaks operates with an intimate crew focused on relationships and the execution of services to the highest of standards.
Individuals: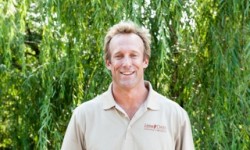 Reynolds Lockhart
Principal/ Production Manager
Email Reynolds 
With a strong vision, Reynolds established Living Oaks Landscaping and Tree Service, Inc. in 2002. Reynolds cultivated a successful career beginning with lawn service and the identification of a greater need to provide landscape services here on the Outer Banks.
As part of the community, Living Oaks has established deep roots upon which core offerings such as lawn care and tree work have been founded. Reynolds has infused tree work within Living Oaks service offerings climbing and cutting with a keen eye for "Live Oaks." These services have been developed into a more comprehensive range of offerings giving clients access to a single source to meet all their landscape needs.
Looking forward, Living Oaks will be expanding into new markets broadening their range of capabilities. Reynolds takes the helm in nurturing this growth drawing on experience as a landscape professional and sincerity in his strive toward excellence in all facets of the business from communication to manicured cuts. With an amazing attention to detail, his genuine concern for the site shines alongside his devotion to customer service.
Focused on strengthening the building blocks to do something greater, he has added new staff controlling the continued growth of Living Oaks as a reliable provider of excellence in product and service. Recent additions to staffing are affording him the time to focus on production, training, and staff development while being more assessable to clients.
© Copyright Living Oaks Landscaping <br /><a href="http://www.boldprintdesign.com" target="_blank">Outer Banks Website Design</a> by <a href="http://www.boldprintdesign.com" target="_blank">Bold Print Design Studio</a> | Photography by Daniel Pullen</h5>